The Greater Addo area is a wonderful place to spend a holiday - this is where 3 industries come together - conservation, tourism and farming, meaning that your stay can be filled with many diverse, rewarding and educational experiences.
They welcome self-catering guests and have built a fully equipped guest kitchen for their use. Many of our bed and breakfast guests also use the kitchen to have a break from restaurant meals and enjoy a light supper that they prepare themselves. The kitchen is adjacent to a braai (barbecue) area, where guests can cook their own meal outside, and relax next to a roaring fire in the evening, listening to the sounds of the African night.
Bed & Breakfast and self catering accommodation available
The cottages are safely nestled in the garden, where many indigenous shrubs and trees have been planted. Mornings are filled with varied birdsongs from the more than 60 species that we have seen on the farm.
The cottages are designed to have a low energy demand. The thatched roofs are a delight to sleep under. They retain heat in winter and stay cool in summer. The solar water heaters make use of the hot African sun, and provide you with a relaxing shower after a long day having fun in Addo.
To minimise our impact on the environment even more, we provide guests with soaps and shampoos that are mild on the body and free of harmful chemicals. Our linen is all washed in these 'green' products, which are effective cleaners but rapidly and safely biodegrade.
They grow and source as much food locally as we can. Breakfasts are substantial, and include organic home baked bread, orange juice and preserves. If you need a late breakfast after an early morning game drive, that's fine by us.
Pick a fresh organic lemon to add flavour to your food.
Cottage Design
The cottages were designed to benefit from the natural cooling breezes coming off the sea in the afternoons. The pitched roofs furtherhelp to control heat in summer. Large windows allow natural light to brighten the rooms and save electricity.
Materials and Furnishings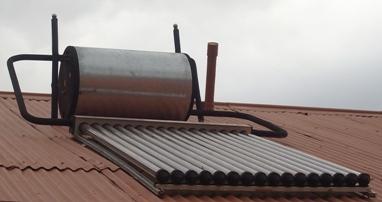 Clay bricks last forever. Plus, our bricks were made by a company that fires the bricks using industrial waste instead of coal.
Wood for the poles, doors and windows come from FSC approved, sustainably managed timber plantations.
Thatch was chosen for the roofs because it isa renewable resource and for its insulating and visual properties.
The interior paint is low VOC, no volatile organic components to breathe in.
Shower heads give a refreshing shower while minimising water use.
Toilets have optional high and low volume flushing mechanisms.
Outdoor furniture is made from recycled packing cases used in the motor industry, and from roof timbers recycled from demolished buildings.
Services
The drinking water is rainwater collected from the roof of the main house, and stored in an underground tank. We are completely self sufficient in drinking and cooking water.
Bathing water is sourced from the irrigation dams, and purified on site before being pumped into the system. This system is designed to rely mainly on natural sedimentation, with a minimal use of chemicals.
Hot water for showers is provided by solar geysers, with electrical backup if we have cloudy weather.
Grey water from bathing and other uses goes to French drains, which irrigate our windbreak trees.
Brown water is passed through an anaerobic digester, and then into French drains, which lead to our windbreak trees.
Lighting is with low wattage energy saving lamps indoors and solar-powered lamps on the outdoor pathways.
Hand wash and shampoo are made from the mildest ingredients, organically certified, as are our cleaning products, so as not to destroy the bacteria in the anaerobic digesters.
They recycle as much waste as possible. Food waste is composted, and metal, glass and paper are recycled. We are involved in a project to establish a recycling depot in the valley that will take in plastic as well as create jobs for the unemployed.